Are you planning for your career or course after plus two? worried about CSIT Entrance preparation, don't worry we got you.
Are you in confusion about what course to choose and where to study? , don't worry we are here to help you. In this blog we will be talking about course that is being offered under CDCSIT(TU) at different public and private colleges in Nepal, from far east to west. Get the list of private colleges and Public colleges.
First thing first, Let's get to know about Bsc CSIT Course. 
It's Bachelor of Science in Computer Science and Information Technology. It is Computer Science and IT i.e it deals with both computer science and information technology.
Know more about our previous blogs about CSIT and why you should be joining this course.
In past years we conducted a survey with students who are currently studying csit and those who are willing to join csit, and most of them who are studying are happy with and newcomers seemed very excited to join, read more about that survey here.
Let's start the journey, you may have questions that where you can find more information about the course and do you need to attend the entrance preparation class or what course should I have on plus two to join this course.
Who can Join?
Should have successfully passed the entrance examination conducted by TU securing at least 35% marks. Compiled with all the application procedures.
Should have secured a minimum of the second division in their +2 or equivalent OR should have secured at least C in all subjects in Grade 11 and Grade 12  by taking Physics and Mathematics of 100 marks.
OR Passed A level in Science (have studied Physics and Mathematics of 100 marks) and passed at least in D Grade
OR Passed 3 Years Diploma in Engineering program from CTEVT taking both Physics and Mathematics.
Entrance Preparation class and Entrance preparation book. 
Joining an entrance preparation class is completely your choice but in recent years, with the volume of students applying for this course is getting higher so it's recommended that take a few weeks or crash course for preparation and prepare yourself for best.
OR  get an entrance preparation book and prepare yourself at home.
Where can I find the Entrance Prerpation book and who is the Publisher?
There are different publishers particularly today we will discuss the Entrance preparation book By Saral SIKSHYA.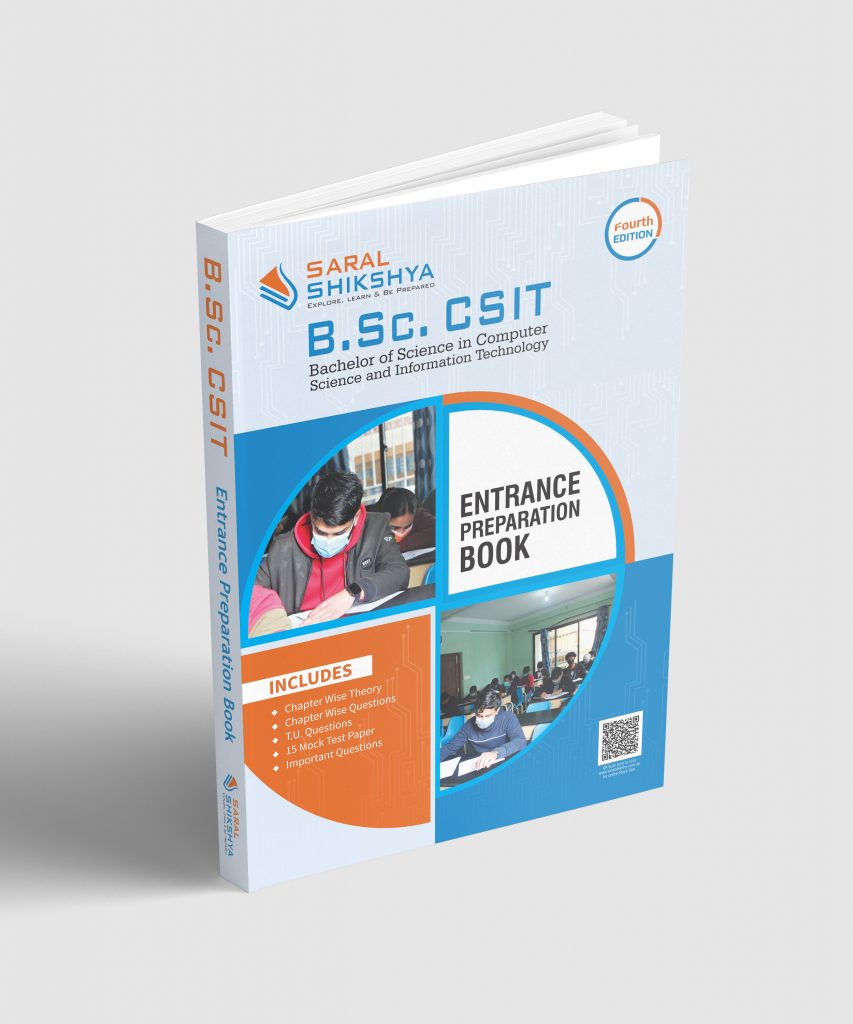 Entrance preparation classes are in high demand due to high competition to secure the top position in entrance exams. With the best academic and energetic team, excellent past results and studious learning environment Saral Shiskhya has evolved in the market 4 years ago and is recognized as the top educational platform in Nepal in the present day. Saral Shikshya also has published the 4th edition of B.Sc.CSIT Entrance Preparation Book for the year 2078.
Are you looking for the best entrance preparation book in the market? Let's have a look at the specification, prices, and content in the book in detail.
Book includes:
Subject wise Theory
Chapter-wise Theory
Chapter-wise Practice Question
TUIOST Old Question 2079 to 2077
15 Model Question (Mock Test Paper)
This book costs Rs 899 /- only.
You can now order the book from different E-Commerce platforms or buy it from your nearby stationery too from Sunday.
You can order books from the Saral Shikshya Facebook Page as well. Inside the valley, Home Delivery Service is also available.
Features  
Syllabus and Table of Contain:
As per the TU-IOST syllabus, the content for the book is managed. Tables contained in the book help students to use the book easily.
Theory:
This book includes chapter-wise content & MCQ according to the TU-IOST syllabus. This book includes the theory of Physics, Chemistry, English, and Mathematics making the theory volume around 335 pages.
Old Question:
In the fourth edition book, we have included the TU-IOST Entrance Exam Paper and Answer keys for BSc. CSIT from 2069 to 2077.
Mock Test Question:
In the fourth edition, there are 15 Mock test questions and answer keys so that the students can practice more.
Support:
In sort of any errors or problems in the book, our team is ready to solve the problem via the ask doubt section of the website.
Availability:
Last year, we almost got demand from more than 40 places all over Nepal. We were able to provide books to 13 places outside the valley which were Kathmandu, Lalitpur, Bhaktapur, Jhapa, Biratnagar, Pokhara, Dang, Janakpur, Banepa, Nepalgunj, Chitwan, Dhangadi, Surkhet, Bharatpur, Butwal, and Mahendranagar through our distributor. This year we are coordinating with e-commerce portal Daraz and many more too for easy distribution of our book all over Nepal. With the advancement in content, error-free and minimalistic design, we are expected to sell books all over Nepal.
For more inquiries you can contact:
9840186295, 9825601826 (Birendra Bhatta)
9840186294, 9818610835 (Pradip Dhungana)
NOTE : CSITINFO, team is always there to help you with any queries, ask us for anything at, anytime one of our team members (CSIT graduates) will help you at no cost. we wish you good luck with your bright future.
Comments
comments